Joined

Aug 8, 2013
Messages

5,287
Location
Making screenshots with Paint.NET​
This guide was created with the purpose of showing the community how to edit screenshots using Paint.NET, an alternative to Adobe Photoshop.
1. Setting up the program
For the people that don't know, Paint.NET is a free image editing program that will run on Microsoft Windows only. The program comes with a few effects and options to edit but you can get plugins of extra effects, in this case you'll need the "outline effect" to edit the chatlog.
Downloads:
You can install the effect by simply dragging the .dll file to "C:\Program Files\Paint.NET\Effects".
2. In-game
Once you're in-game, for the perfect screenshots you'll need to set game settings, I personally use a resolution of
1366 x 768
and
/fontsize -1
, different settings may work but the image may appear different. You'll need to take 2 screenshots, first a clean image and second, the chatlog.
1. For the image you can either double tap F7 or hold F10 to clean your screen, when you got you're ready press F8 to take the first screenshot.
2. Now for the chatlog, once you can see the chatlog again just use /blindme, it'll set the background to black and now you can press F8 to take the second screenshot. Use /unblindme to go back to normal.
3. Editing
Now that you have everything set up you can start editing the screenshot. Once you're on Paint.NET open the screenshots you took.
1. Crop the image using the "rectangle select" tool and make the width no higher than 800 pixels, that will prevent the forums from resizing the screenshot and decrease it's quality.
2. Repeat the last step but now on the second screenshot, just choose whatever you want to use from the chatlog.
3. Create a new image and paste the first picture, before adding the second one (chatlog), add an extra layer to the image and only then paste the chatlog on it.
4. By using the "magic wand" tool select the black part of the chatlog and delete it, you'll only see the text after.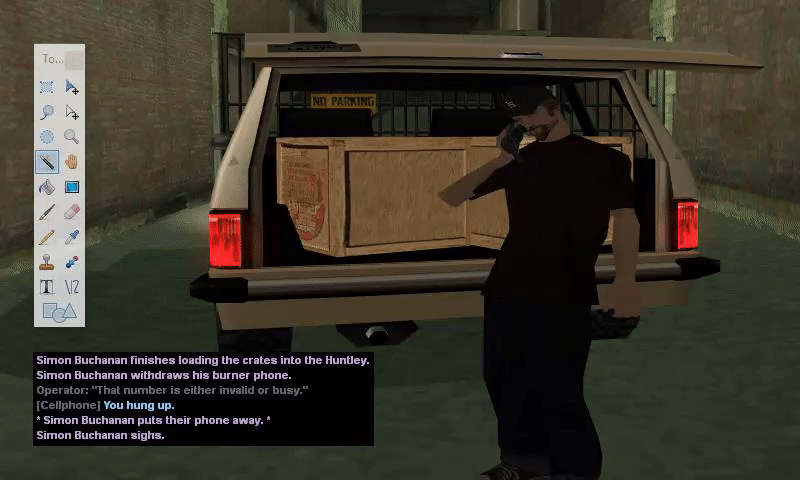 5. Only thing missing now is the outline around the text, so go to "effects" > "object" > "outline object".
Set the outline "width" to 1, the "softness" to 0 (or 252) and R,G and B to 0 for the black color.
6. After all of that your screenshot should look like this. So just save it as a .png file and upload it.
Last edited: