Joined

May 23, 2012
Messages

3,018
Likes

73
FD/Medical Jargon Glossary​
It's come to our attention that one of the reasons players don't particularly like taking the time to RP with us is that they sometimes have no idea what we're talking about, so I've come up with a glossary of sorts, to explain, in as simple terms as possible, what some of the jargon we use means. Each word is in it's own spoiler, enabling you to find what you're looking for quickly. We'd love for people to have this open if they happen to get into an FD incident, so that you understand what we're doing and can RP appropriately to it, bringing more roleplay to both sides of the incident.
AED stands for 'Automated External Defibrillator', when a patient goes into Cardiac Arrest (Heart Attack) the AED is attached to the person's chest as the picture shows, and is used to 'shock' the patient's heart back into life. A patient who has been revived through this method, if conscious, is likely to be very confused and scared.
A backboard, as pictures above, is simply a log, stiff board. Patients are strapped to this to avoid them from moving, and doing any spinal injury. It's rather restraining, so it may make your character feel uncomfortable.
BVM stands for 'Bag Valve Mask', and is used when someone is not breathing on their own. The bag is squeezed by the paramedic, which will force air into the patients lungs.
A cannula, pictured above, is a device that allows liquids to be quickly put into the bloodstream. The cannula is put into a vein, usually in the arm, before the needle is taken out and it is connected to whatever fluid is going to be put into you. When RPing having one put in, it would be rather uncomfortable to start with, and it may hurt a bit going in, but that should subside.
A Cervical Collar, or C-Collar for short, is used to prevent the patient from moving their head or neck. This, like the backboard, is to prevent spinal injury, and is fairly restraining, and uncomfortable.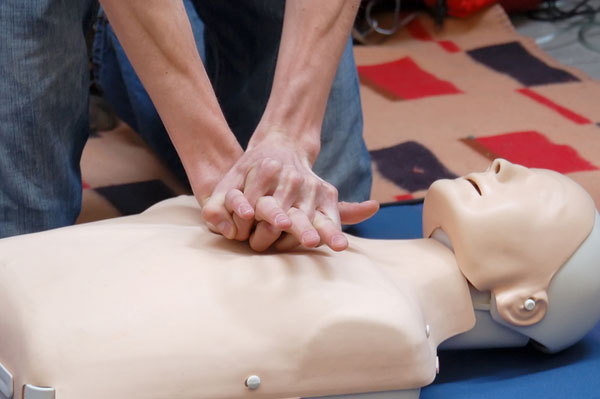 CPR, or Cardiopulmonary Resuscitation, is a technique used to keep blood pumping around the body if the person's heart has stopped. As shown in the image, it involves violently pushing down on a person's chest. If your character is revived through this method, and is conscious, they are like to have pain in their chest, and be rather confused or frightened.
IV stands for 'Intravenous', which simply means 'within vein'. An IV is a common way of getting fluids into the body, and this is often achieved using a Cannula (mentioned above). This way, fluids can be easily put straight into the body. If you hear an FD member talking about 'starting a line', this is normally what they'll be referring to.
NRB stands for Non Rebreather mask, and is used when a patient is breathing, but not very well. The mask is connected to an air tank. This is used to help the patient breathe easier, or calm them down.
Saline is basically sterile salty water. It is used to clean wounds, and is also run through an IV to replace lost fluids. If being used to clean an open wound, it's likely it would sting a bit.
If there's any other terms you see being used, but you don't know what they mean, post a reply and I'll add it to the list!
---
Commonly Used Drugs Glossary​
For those with a love of knowledge and intense need to know what we're doing I've created a list of common drugs used by Paramedics and Flight Medical Crewmen. This is
not
and exhaustive list. There are countless other drugs that we have at our disposal, for specific presentations - If you want to know about these, or any drug, contact
Chris Murphy
.
This list contains the Drug's 'Generic Name', 'Trade name(s)/common short names', indicated uses (for FD members) and side effects/Adverse Reactions.
Generic Name:
The name of the active drug(s) with in the substance. e.g. (Aspirin)
Trade Name(s):
The name(s) the drug is most commonly known by. e.g. Again, Aspirin.
Indications for use:
The reasons FD members are authorized to use the drug, e.g. signs and symptoms patient is displaying.
Side effects/Adverse Reactions:
There will be a list of the common side effects of each drug.
Red will indicate that this is a life threatening side effect.




Orange will indicate this is a non-life threatening, uncommon side effect.




Blue will indicate a non-life threatening, common side effect.
*ALL drugs have the capacity to illicit allergic responses (Anyphylaxis) and thus "Hypersensitivity/Allergy" is omitted from this list.
---
Acetylsalicylic acid
Aspirin, Aspro
Aspirin is used in situations in which the patient is complaining of chest pain.
Gastro-intestinal Bleed
Tinnitis (ringing in the ears)
---
Adrenaline/Epinephrine
Epi
Used for patients suffering Cardiac arrest, Anaphylactic reaction or patient with a bleed, particularly that of a small artery that will not stop.
Palpitations
Tachycardia
Arrhythmia
Tremor
Hypertension
*It should be noted that these side effects are only adverse reactions when administered in response to Anaphylaxis or haemorrhage, In Cardiac Arrest, they're already dead anyway.
---
Salbutamol/Albuterol
Ventolin, Salbair, Asmol
Breathing Difficulty, Asthma Attack
Heart Attack
Hypokalaemia
Tachycardia
Dry Mouth
Palpitations
Cramps
---
Diazepam
Valium
Used for an anxious patient, or one experiencing a seizure in which the patient is at risk.
Sedation
Hypotension
Dizziness
Unstable gait
---

Midazolam
Versed,Hypnovel, Midaz
Agitated patients, Seizures in which the patient is at risk, Rapid Sequence Induction (RSI) (Induced coma)
Respiratory Depression
*Not considered a side effect, but a desired effect when using Midazolam in RSI.
---
Morphine
MS Contin,Kapanol, Morph
Used for a patient in extreme pain.
Respiratory Depression
Nausea and Vomiting
Constipation
---
Naloxone
Narcan
Used to reveres overdoes of opioid e.g. Morphine, Heroine. where patient at risk
Pain will return almost instantly
Hyperventilation
---
Glycerol Trintirate (GTN)/Nitro-glycerine (NTG)
Nitro, GTN, Anginine
Cardiac Chest Pain.
Headache
Flushed face
Dizziness
Hypotension
---
Suxamethonium/Succinylcholine
Sux
Used to induce a coma for RSI.
Increased Intracranial Pressure
Bradycardia
*'Fasciculation' (small muscles tremors) will occur after administration for a short period of time.. This is an expected bodily reaction, and not a side effect

'FD/Medical Jargon Glossary' Written by Speakybutton | 'Commonly Used Drugs Glossary' Written by nikolai_kiseliv​