Joined

Jul 5, 2014
Messages

200
Likes

0
IG Name

Arse
IG Faction

Department of Correction
What is the X26?
The TASER X26 is a software upgradable electronic control device manufactured by TASER International, Inc. Electronic Control Devices (ECDs) use propelled wires or direct contact to conduct energy to affect the sensory and motor functions of the nervous system.
The TASER X26 transmits electrical pulses along the wires and into the body affecting the sensory and motor functions of the peripheral nervous system.
The energy can penetrate up to two cumulative inches of clothing, or one inch per probe.
The X26 tazer is a commonly used weapon by many different chapters of law enforcement.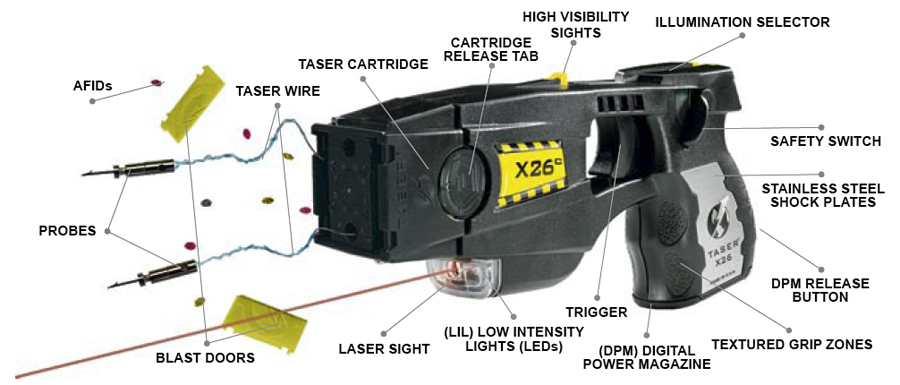 NEUROMUSCULAR INCAPACITATION (NMI)
The human nervous system communicates with simple electrical impulses. The command center (brain and spinal cord) processes information and makes decisions. The peripheral nervous system includes the sensory and motor nerves. The sensory nerves carry information from the body to the brain (temperature, touch, etc.).
The motor nerves carry commands from the brain to the muscles to control movement and can be involuntary in response to the sensory information. An example would be the involuntary muscle reaction to pull a hand away from a hot object.
TASER technology uses similar electrical impulses to cause stimulation that affects the sensory and motor nerves. Neuromuscular Incapacitation occurs when a device is able to cause involuntary stimulation of both the sensory nerves and the motor nerves. It is not dependent on pain and is effective on subjects with a high level of pain tolerance.
Note:
Previous generations of stun guns could primarily affect the sensory nerves only, resulting in pain compliance. A person with a very high tolerance to pain (e.g., a drug user or a trained, focused fighter) might be able to fight through the pain of a traditional stun gun.
How does it work?
Upon fire it launches two probes at about 100 km/h which are hooked up to the wires leading to the control unit (the 'gun' itself). The probes use Shaped Pulse technology to penetrate barriers such as clothing. What this means - it uses high voltage leading edge to penetrate barriers and then uses low voltage NMI (NeuroMuscular Incapacitation).
X26 use 19 Pulses Per Second which lasts for 5 seconds. A cycle can be repeated by pulling the trigger.
Wire length which connects probes to main unit is based on the cartridge used, ranging within 15-35 feet (4.5 - 10.6 meters) long. They emit 50,000 volts and .0036 of one amp (Now before you say something, here's a fact for you: volts are not the ones that kills, the killers are the amps. You can take millions of volts through yourself, while only a few amps will kill you.)
Taser can also be used as a stun gun in close quarters if a user manages to put it to the victim.
If someone got tasered while you're grabbing him, you have a real small chance (almost none) of getting tased with him.
General guidelines while roleplaying:
X26 can only hit targets that are 15-35 feet away or closer
X26 has to be reloaded after each shot to be fired again. I.E. cartridge has only 1 shot in it.
After being hit, you still have probes in you, which means, you will shake as long as the guy with control unit wants.
There is no way, and I repeat, no way to resist the shock. Even the strongest man in the world would turn into a whining ball of flesh while being shocked.
Pulling the probes out can be very painful, because they are not needles, but more like fish hooks.
Injury cannot be caused by the taser itself, but it can be caused due to victim falling on the ground for example.
Probes can pierce even the fattest winter jacket.
Suspect gives up almost immediately after being tased, because if they make a wrong move, the officer can pull the trigger again which will make them go through another cycle of pain once more.
So, that's pretty much it. I am not saying that you must follow these guidelines, but they could surely enhance your RP experience.
Recommended videos
Useful links
http://www.taser.com
Useful article
How a taser CEW works
Taser mod 1
Taser + other mods
*thanks to LemonPower for sending the link to Taser mod 1, and for reminding me to add a mod.
TL;DR for
Law Enforcers
Your taser isn't a sniper, it can go as far as 15-35 feet (4.5-10.6 meters)
It would be better to advise the suspect that he is going to be tased unless it's unnecessary (he is running for example)
Your taser emits 50k volts and .0036 of one amp
Yes, you can reload your taser quickly, but don't spam it unless you're lagging or something
When someone is hit, probes are inside his body. They are like fish hooks, so, you can decide the kind of pain he will go through while pulling them out
As long the probes are inside his body you can start another cycle of pain.
Remember to pull the probes out!
TL
R for
Criminals
You can't get used to taser. Not because you got tased 1000 times means that you can resist it.
It's not wise to ignore the presence of the taser and act like it's a BB gun.
Most of the police officer won't hesitate in shooting the taser as it's not lethal in anyway like other less lethal equipemnt (beanbags for example)
If you got tased, you can't just jump off and run away like nothing happened because the anim stopped. Even if you managed to run somehow, the probes will tear your flesh.
Suspect gives up almost immediately after being tased, because if they make a wrong move, the officer can pull the trigger again which will make them go through another cycle of pain once more.
Unlike popular belief, if you're holding the officer's hand/body part, he will not get tased with out.
It's better to avoid being tased than acting like a badass then ignoring the consequences.
Before you bash me, I am not saying that you should RP dying of a taser and completely surrender. Just try to be smarter, there are 100 ways to escape a tase and not run away. Just be smart not aggressive!