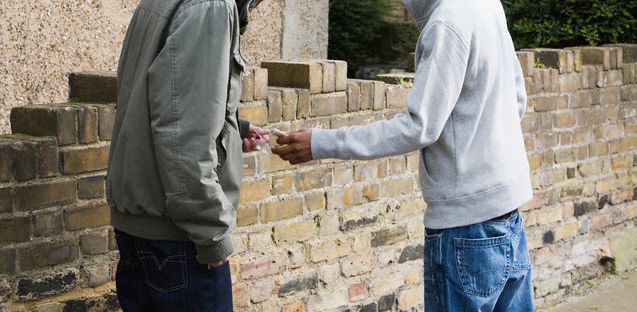 In this guide I'll present you the most realistic way of dealing drugs as a ghetto dealer which means you're slanging a few grams, maximum an ounce at once and not quarter pounds or kilograms. You're a simple 'corner' boy who deals drugs for someone else, you're at the bottom of the hierarchy, or you're pushing drugs for yourself — struggling to make a living.
Best way to portray a drug dealer is by starting with your character's attire. First and foremost, you need to roleplay cheap clothes at first, of course you can spend your money obtained by selling drugs on more expensive clothes on the run, but this comes with the success your character might or might not have. This will show your character development and how you went from broke to having cash every day and eat every day. Of course this depends on how much you're being given to sell by the people above you in the hierarchy or by how much you push by yourself(realistically speaking, you'd still deal small quantities in order to grow your fiend/customer numbers).
Never keep your drugs on you.
Makes total sense, no one wants to get robbed and lose his drugs for the simple fact that he'll have to pay for the drugs from his pocket and lose money plus profit. There's a lot of ways to do this but here's some of the most common ways a drug dealer acts: if there's a pay phone near you, then you can hide a few grams inside it; if there's a trash bin around you can put a bag with your drugs inside it and no one will ever think that there are drugs inside; you can have a Cluckin' Bell greasy bag somewhere hidden; you can have a cigarette pack which contains the few grams you wish to sell hidden somewhere else and so on, there's plenty of ways you can hide your drugs realistically. And with the upcoming drug system this will be possible script wise as well.
Making the deal
. Talk to your customer, let him know what you have(always use a realistic slang when it comes to drug names, therefore you can follow
this link
to make an idea of how drugs are called by their street name nowadays) and what your prices are. Don't stick with the price you've been told by the people who gave you the drugs. Tell the customer a higher price, try to obtain as much profit as possible, negotiate. You'll take the money first and then tell him to wait you somewhere in an alley or a very shady area(parking lots, backyards, etc). Go stash your money and then pick up the drugs from your hidden spot. You'll put your money in a safe place just to be sure that you'll not be robbed when you meet him again to deliver his drugs. If he tries to rob you, all you will have are his drugs which he already paid for.
Delivering the drugs
. Here we also have a lot of ways to do this, I'll give you a few examples but you can use your imagination to find more innovative ways to do this. After stashing your money and picking up the amount of drugs your customer paid for, you can: meet him in the alley and give him the drugs: by shaking his hand and leaving the baggies in his hand; giving him a cigarette pack which contains his drugs; having the drugs fall from your pocket while passing by him; telling him to meet you in a trap house from the area your gang/crew operates in and simply give him the drugs(he might not accept this since there's a high chance he suspects that you'll rob him) and so on. Use your imagination and create more ways of doing this.
Keeping in contact with your customers
. After you've done the deal, pass your number to the customer and tell him to call you when he needs some more. This way you'll build up loyal customer who will ring your line every time they need some product and you'll maximize your profit. A big pro is for those who change their IC numbers every month to roleplay it as using prepay brick phones and changing them often to avoid getting caught.
If you have any suggestions/ feel like something should be added here, PM me with your ideas and I'll look into it. Feel free to ask any questions about this as well.
NOTE
Credits to the creator of this. This is not my work.