Your master account:
ParaPara
Your character:
Silvester_Frainster
Their name(s):
Mason Hawkins (SlickSpencer8)
Offense:
DM & I believe to see it as PG, since he didn't ask me out of character if he could see the item.
Re-count of situation/description:
Me and my friend simply went to Town Hall to sign out checks. I was /exiting at the moment, as Mason Hawkins, was barely entering the Town Hall. So I walk, then slightly jog to the Huntley, where my friend was inside, driving. I enter my vehicle, and notice some yells to get on the ground, and whatnot, and I believe he removes his tazer. Well my friend drives off, because we begin to get bombarded with bullets, from Desert Eagles. I was completely confused about the situation. Before even firing his gun, he should of asked me through /do if he could see my weapon. I had an MP5 on me, which I cannot hide through /holster - so I moved it to my crotch/belt-line area, and roleplayed my weapon (As I have been roleplaying almost every time I've used an MP5 in the past three years) as a Scorpion Sub-machine gun. I have the bind to it and everything. Now, he shoots me, because he notices the weapon on one of my /holster bones, we run ovbiously, since we don't want to die, and had very little to no time to explain our situation, we drive to some homes barely passing the Palomino weapon storage, where the Huntley brakes down, we get out, and I keep running, because I seriously didn't want to die. I get behind some house, and I push my hotkey, which was - '/ame **Raises his jacket, sliding out a Scorpion submachine gun from his belt-line** and a moment later, Mason comes up with a few other cops and they just kill me, I'm not even sure if I manage to shoot one. But the main problem is, why didn't he ask me through /do if he could see my weapon? I could of just happily told him how it was concealed and how I was roleplaying my weapon. He invaded my RP by forcing an action towards me, that could have been completely avoided. The weapon I was roleplaying was a Scorpionm which is just slightly bigger than a handgun. It is a sub-machine gun, which can be roleplayed as an MP5. Although it would be easier to roleplay it as a Tec-9 or a Mac, I'm unable to since those weapons are not available to me. Like I stated I have been roleplaying a Scorpion for quite some time now, the reason I do is because it can easily be RP'd as a small submachine gun that can be easily concealed. And since I /CANNOT/ conceal/hide my MP5 via /holster, this incident occurred. It's just a bit upsetting that he couldn't of asked if he could see it, It's not as if I walked into town hall with a huge AK-47 strapped over my back. I exited Town Hall, and he entered, and since he saw a gun on me, his instincts kicked in, and wanted to bust me.
Witnesses:
Bruno_Angotti
Date (when it happened):
Today
Evidence: Here, we left Town Hall due to them shooting us... The vehicle is clearly damaged, and as you can see I had done nothing to trigger them, we fled because they began to drill the car with bullets.




Now, the car was destroyed, and we ran off, I got behind some houses, trying to hide, and retrieved my weapon. (Here you can see my hotkey)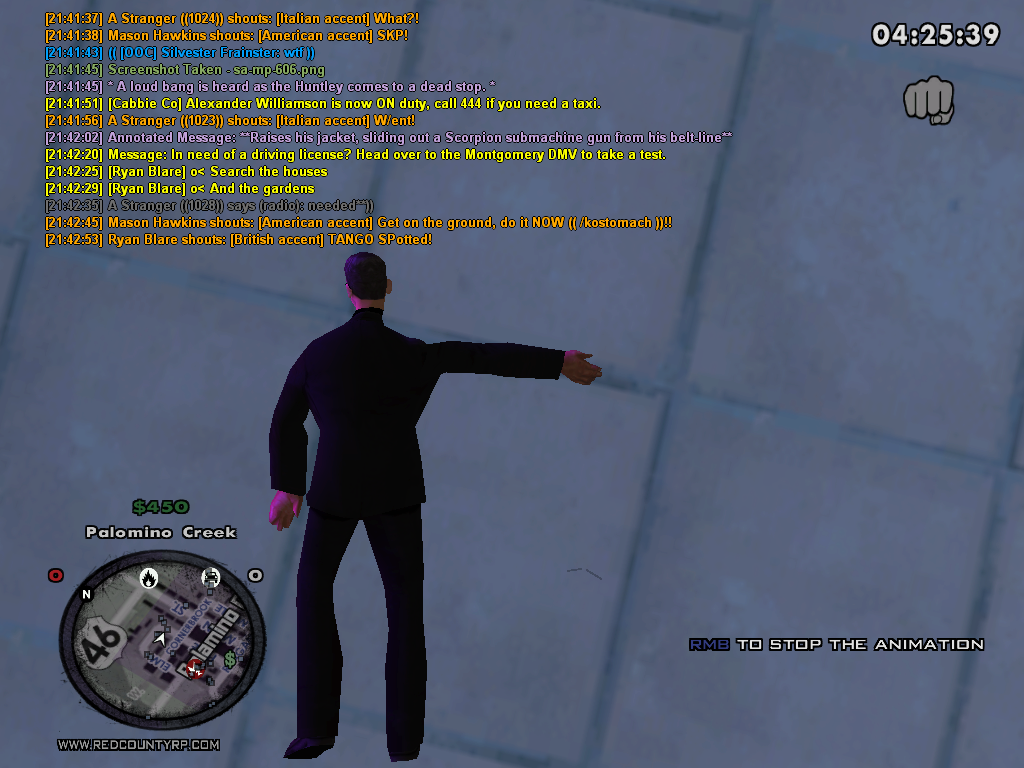 And in this image, after leaving the hospital I explain something that could have been explained much earlier to have had evaded a whole situation that was not suppose to happen. If he simply asked me in /do...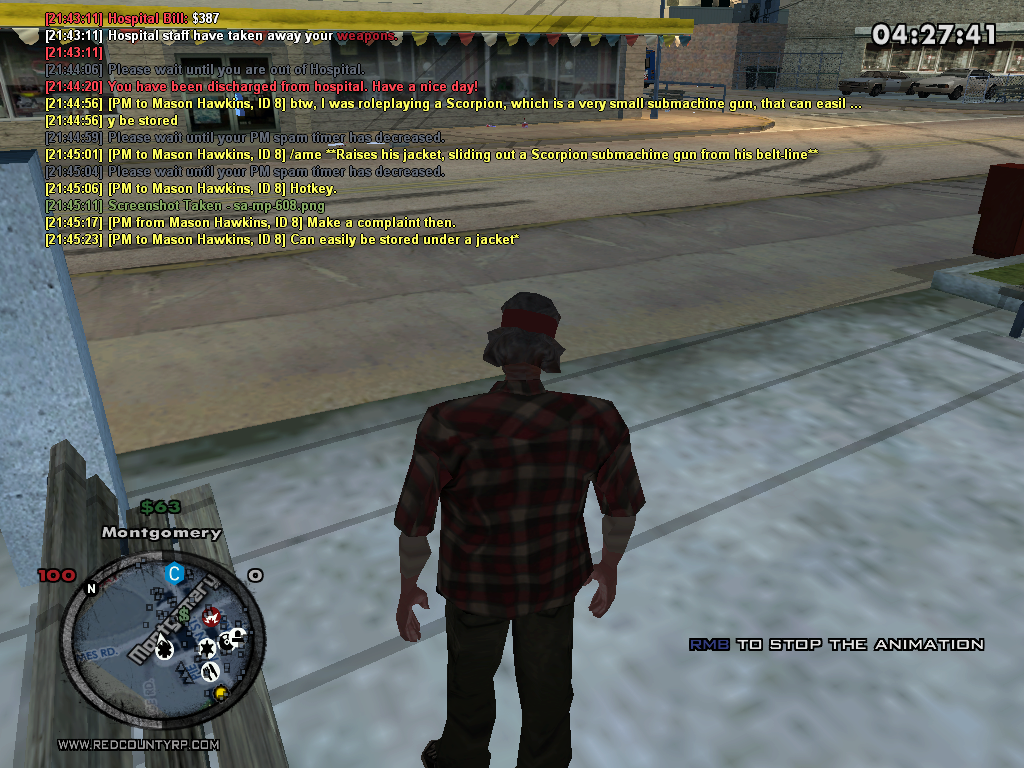 Additional information:
The Scorpion is a submachine gun that can be easily hidden. The Scorpion is 10 inches long, the same size as a Desert Eagle. The Scorpion has a Stock fold, that is folded ONTO the Scorpion, giving it twice the length. Here are some images of the Scorpion in real life, and in GTA:SA.
This is a RP server, can I not RP a smaller submachine gun?
This is a man, holding a Scorpion, with the Folding Stock pulled back,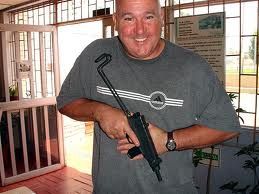 This is a Scorpion, with the stock pushed in, (The stock being either out or in does not affect the ability of shooting the gun)
CJ holding a Scorpion with the stocks inplace.
Other Comments: If successful, it would be nice to have the weapon refunded, and a bit of justice. I wasn't really looking to get into a shootout with anyone, and I did not bother anyone online, I simply had it on me because me and my friend were out selling armor, and didn't want to get robbed/scammed.